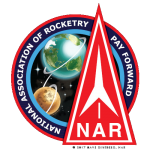 NAR Events
NAR Annual Meet "NARAM"
NARAM-63 — The Rocketry Festival is to be held July 16-22, 2022. The host hotel is in Springfield and the launch site is in nearby Walnut Grove, MO. The event is hosted by Launch Crue, St. Louis Rocketry Association, and Tripoli Mo-Kan. There is a 10,000′ waiver for this event.
National Sport Launch "NSL"
NSL 2022—The National Sport Launch will be held May 28-30, 2022 in Sumter, SC. NSL is hosted by the Rocketry Organization of South Carolina (ROSCO) #3648. There is a minimum 7,000′ waiver for this event.
NAR Convention "NARCON"
vNARCON 2022—The ultimate virtual Rocket Convention. vNARCON 2022 will be held virtually January 28-30, 2022.
NAR has a national schedule it keeps for sections to maintain.
NAR Launch Calendar
Tripoli Events
Large Dangerous Rocket Ships LDRS
LDRS-40 Lucerne Valley, California
June 9th – 12th 2022
Independent Events
Red Glare
Held every spring by the Maryland Delaware Rocketry Association "MDRA"
Detail on that date can be found on their website