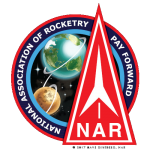 NAR Events
NAR Annual Meet "NARAM"
NARAM-62—The NAR Annual Meet is to be held July 24-31, 2021 at the National Warplane Museum in Geneseo, NY. The event is hosted by the Monroe Astronautical Rocket Society, MARS Club 136, and the Syracuse Rocket Club, SRC 566. The Contest Director is Dan Wolf, the Sport Launch Directors are Bill and MaryBeth Clune.
National Sport Launch "NSL"
NSL 2021—The National Sport Launch is to be held May 29-31, 2021. NSL is hosted by the San Luis Valley Rocketeers, in Alamosa, CO. The Event Director is Matt Abbey.
NAR Convention "NARCON"
NARCON 2020
March 6-8, 2020, Tucson, Arizona
NAR has a national schedule it keeps for sections to maintain.
NAR Launch Calendar
Tripoli Events
Large Dangerous Rocket Ships LDRS
LDRS-39 will be hosted by Utah Rocket Club (UROC) at the world-famous Bonneville Salt Flats in Wendover, Utah. This is UROC's second time hosting the event. July 29 – Aug 1, 2021
Independent Events
Red Glare
Held every spring by the Maryland Delaware Rocketry Association "MDRA"
Detail on that date can be found on their website