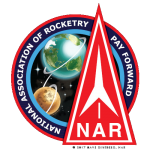 NAR Events
NAR Annual Meet "NARAM"
NARAM-64 — The Rocketry Festival is to be held July 29-August 1, 2023 and will be held in Lordsburg, NM. The event includes 4 days of sport and competition flying.
National Sport Launch "NSL"
NSL West is set for May 27-29, 2023 in Alamosa, Colorado. 52K AGL Waiver! An event specific website is to follow.
NAR Convention "NARCON"
vNARCON 2023—The ultimate virtual Rocket Convention. vNARCON 2023 is set for January 27-29, 2023.
NAR has a national schedule it keeps for sections to maintain.
NAR Launch Calendar
Tripoli Events
Large Dangerous Rocket Ships LDRS
LDRS-41
July 6th – 9th 2023
Independent Events
Red Glare
Held every spring by the Maryland Delaware Rocketry Association "MDRA"
Detail on that date can be found on their website