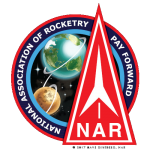 Since 1959, sanctioned NAR model rocket competition has evolved into a proven method for challenging the individual rocketeer to improve their craftsmanship and flying skills. It is an activity that emphasizes modeling and flying skill, and sportsmanship. Any NAR member can participate in NAR competition, and you do not have to go to a big organized launch to do it.
The U.S. Model Rocket Sporting Code is the official rulebook for conducting and participating in NAR sanctioned competition. NAR members can design and build model rockets for over 25 different competition events. Official US Records can be set in many of these events.
In 2017 the NAR completely revised the competition process to eliminate the annual accumulation of competition points and shift emphasis to individuals flying competitively against other individuals from throughout the U.S., each at their own local launch, in a half-dozen events that are standardized for each contest year but change between years.  This new process is called the "National Rocketry Competition (NRC)". Any two NAR members (at least one of them an adult) can get together and fly any or all of the NRC events anytime, anywhere as long as you register the launch event 7 days or more in advance through "Launch Windows". Anybody can do this, it does not have to be done through an NAR section.
When you're done flying one of the NRC events, you just report your flight scores and they get posted to a national "Scoreboard" where you can see how you are doing in that compared to everyone else in the US that year. If you want to move up in the rankings, just fly again the next weekend; you can fly as often as you want. At the end of the contest year (June 30), the NAR recognizes the top 10 fliers in each event, and if you are one of these you can go to the National Championships (NARAM) and compete head-to-head in the event for the title of "National Champion". If you want to know more about how the NRC process works, read the basic explanation briefing attached below.
The standard NRC events that you can compete in nationally for the 2021-2022 competition year (July 31, 2021 to June 30, 2022) are:1/4 A Streamer Duration
1/2 A Rocket/Glide Duration
A Parachute Duration
A Helicopter Duration
B Eggloft Altitude (altimeter)
B Altitude (altimeter)
Sport Scale
2021-2022 Contest Year Notes
Rocket/Glide duration was added as an NRC via RCP in the previous RCP cycle and selected as an NRC event for 2021-2022 contest year.
Sport Scale was added as an NRC event via emergency RCP for the 2021-2022 contest year only. Rule 50.10 of the current Sporting Code outlines the requirements for scale data and pictures of the model.  To submit your data and model photographs, contact the NAR Contest Board Chair here and state that you wish to submit data for an NRC Sport Scale entry. You will be given access to a Google Drive folder where you can upload your scale data and model photographs so the model can be judged.  Then fly your model at any NRC launch. Instruct the launch director to reach out to the Contest Board Chair for your static score. Note that there may be a delay between your NRC launch and when the final score (static + flight) is added to the Scoreboard.
If you prefer the comraderie of flying with a larger group, NAR Sections across the country host NAR launches that provide members the opportunity to participate in competition rocketry, either by flying their own NRC flights or by participating in a locally-organized competition in any of the other events in the Model Rocket Sporting Code. No "points" are accumulated in these competitions that count for any national award, but there is a real personal challenge involved in being the best that you can be at one of the many diverse types of events found in the Code.
The NAR holds an annual National Meet (NARAM) to bring together all NAR members for a weeklong event. The next national championship meet, NARAM-63, will be held Walnut Grove, Missouri. NARAM will be held July 16-22, 2022.   Events will be the 6 NRC events above plus:
E Payload Altitude
Open Spot Landing
Research and Development
1/2A Flexwing Duration
D Superroc Altitude (with altimeter)
Sport Scale
Research and Development
Want to challenge your skills by trying NAR model rocketry competition?  The "Competition Guide" section of the NAR website has extensive information on how to design and fly rockets for all of the events found in the US Model Rocket Sporting Code and the "FAI Spacemodeling" section has information on the different rules and model types used in international competition.
MARS Club is ready to help, all of our launches are NRC registered events so come on down and FLY FLY FLY
As the contests themselves change each year along with some of the rules you can look up all the info you need Directly on the NAR Website https://www.nar.org/contest-flying/